Perfect World International
is a Massively Multiplayer Online Role-Playing Game (MMORPG) developed by the Chinese based company Perfect World Entertainment. The international version of the game was released in August 2008.
Perfect World International is a fully-featured 3D online massively multiplayer game based on the rich Chinese mythological world of Pangu, and the generations of gods that created civilization. Featuring creative elements and features that pave the future of 3D online gaming, Perfect World encourages players to be their own legend and create their own Perfect World.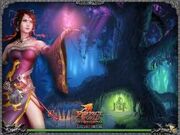 Based on a traditional Chinese myth where the god Pangu built the sky, land, and beings, the game creates a profound cultural base and brings players into an age-old mysterious and undiscovered world with epic backgrounds and a grand storyline. Developed using the patented Element 3D engine, Perfect World presents players a realistic 3D world with its seamless, large 3D map. All these features are made to enhance the interaction between the game and the players, and bring them memorable fun.
External links
Edit